DJI Inspire 2 Travel Mode Case for Cendence, CrystalSky & More
GPC-DJI-INSP2-CCX-T2
$629.00
The rapid release of the new accessory options for the DJI Inspire 2 has everyone excited, including our own GPC designers! Our newest Inspire 2 case offers the most cavity options available in the smallest size case we could put it in while still meeting your needs for the Cendence, CrystalSky and your choice of the most popular cameras in Travel Mode. Most of you shipping or traveling with the Inspire 2 know that this workhorse demands a lot of battery space, therefore we have packed it with 6 flights worth. Each job you have requires ultimate versatility and that's why we created our newest Inspire 2 travel mode case with 40 custom cavities. You'll never have to wonder if you left an accessory or piece behind, as one quick look at the case after a job and you will know immediately what is missing. Several of these cavities are designed for you to upgrade as you upgrade your system ; the monitor cavities are slotted to secure either DJI 5.5" CrystalSkys, 7.875" CrystalSkys or iPad up to 10.5". Cameras are constantly changing so we can accommodate your X4, X5s or the new X7 and lenses for X5 or X7. Lastly, we have your controllers covered, (2) standard Inspire 2 controllers or (1) Cendence w/patch antenna and (1) standard Inspire 2.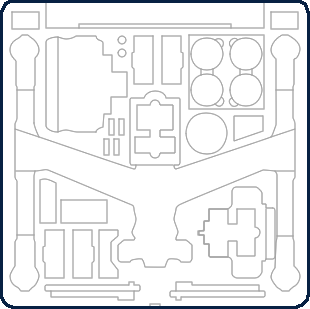 DJI Inspire 2 Travel Mode Case for Cendence, CrystalSky & More
Inspire 2 in Travel Mode
I2 Controller
I2 Controller or Cendence with patch antenna
Batteries
Charging Hub
I2 Charger + Cables
X7, X5s or X4 Camera Box
4 X7 or X5s Camera Lenses
2 CrystalSky Batteries
2 Tablets (DJI 5.5" CrystalSkys, 7.875" CrystalSkys or iPad up to 10.5")
CrystalSky Charger
4 Inspire 2 SSD
CINESD Station
Spare Props
Calibration Plate
Cables
2 Cendence Antennas
Features
Water-jet precision cut with closed cell foam to resist water and dust infiltration.
Our custom foam is housed in a durable SKB military spec case used by military and industrial leaders.
Made in the USA, Shipped Worldwide
Built-in pull-handle with a one finger lock release
In-line skate style wheels for easy transport
Padlock holes include stainless steel padlock protector clips
Waterproof and dust tight design (MIL-C-4150J)
Molded-in hinge for added protection
Trigger release latch system
Snap-down rubber over-molded cushion grip handle
Ambient pressure equalization valve (MIL-STD-648C)
Resistant to UV, solvents, corrosion, fungus (MIL-STD-810F)
Resistant to impact damage (MIL-STD-810F)
Lifetime replacement guarantee
Remember! - If it doesn't say GPC in the foam, it isn't guaranteed!
Specifications
Exterior Length
24.81 in
Exterior Width
24.98 in
Exterior Depth
14.15 in

Interior Length
22.50 in
Interior Width
22.50 in
Interior Depth
12.50 in

Weight
27 lb
0.00 oz
Shipping Weight
29 lb
0 oz
Shipping
policy

Read our shipping policy
for more details.

Return
policy

Read our 30 day return
policy for more details.

Customer
support