DJI Matrice 100 Case
GPC-DJI-Matrice-100-2
$519.00
The DJI Matrice 100 Platform needs to be protected with expansion room and adequate storage.The Matrice 100 goes back to the DIY perspective and that's what GPC has provided along with the convenience of a telescopic handle and recessed wheels. UAV vehicles like this may be out for a full day project; so the GPC Matrice 100 Case has 6 battery cavities, multiple accessories and room for alterations. This case features an adjustable main cavity depth with plugs to accommodate the type and configuration of your hardware. It will fit either an X3 or an X5 camera case. Cavities will also fit front left pivoting GPS or back right pivoting GPS.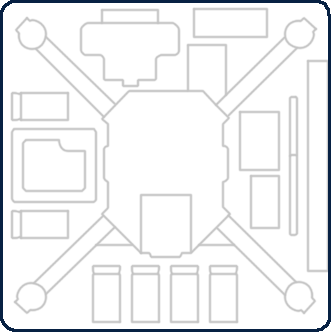 DJI Matrice 100 Case
Matrice 100 with Gimbal
(7) Batteries
Transmitter Radio
Charging Hub
Antenna Cavity
X3 Camera Box (w/ X5 Tear-Away)
Cables/Accessories
180W Charger
iPad Air or mini
Props
Gimbal Support
Features
Water-jet precision cut with closed cell foam to resist water and dust infiltration.
Our custom foam is housed in a durable SKB military spec case used by military and industrial leaders.
Made in the USA, Shipped Worldwide
Industrial strength injection molded pull handle
In-line skate style wheels for easy transport
Padlock holes include stainless steel padlock protector clips
Waterproof and dust tight design (MIL-C-4150J)
Molded-in hinge for added protection
Trigger release latch system
Snap-down rubber over-molded cushion grip handle
Ambient pressure equalization valve (MIL-STD-648C)
Resistant to UV, solvents, corrosion, fungus (MIL-STD-810F)
Resistant to impact damage (MIL-STD-810F)
Lifetime replacement guarantee
Remember! - If it doesn't say GPC in the foam, it isn't guaranteed!
Specifications
Exterior Length
24.81 in
Exterior Width
24.98 in
Exterior Depth
14.15 in

Interior Length
22.50 in
Interior Width
22.50 in
Interior Depth
12.50 in

Weight
27 lb
0.00 oz
Shipping Weight
29 lb
0 oz
Shipping
policy

Read our shipping policy
for more details.

Return
policy

Read our 30 day return
policy for more details.

Customer
support