DJI Matrice 600 Case
GPC-DJI-M600
$1,395.00
Our talented staff created a case that features 37 plus accessory cavities and & designed in our proprietary 3 tray configuration! The GPC Matrice 600 case is sure to exceed the needs of professionals like you thanks to our R&D team made up of expert pilots, combined with our awesome dealer network and friends at DJI. Our designers have packed tons of storage cavities into this case so we can get you to your job site with everything you need with the least number of cases possible! We have specifically designed the case with the Ronin-MX as the number one choice of professionals and we added cavity adjustments for the all of the Zemuse gimbals (see photo). Storage includes twelve M600 batteries, four Ronin MX batteries, Sunshades, Manuals/booklets, Ronin accessories, Follow focus accessories, two iPads, X5R case, three charging hubs with chargers and much more. This GPC case is master crafted with precision water jet engineered foam and housed in a premium military/industrial grade SKB case. Trust your equipment to nothing less. SKB is always GPC's number one choice because of their exceptional quality and replacement guarantees. Make it yours too!
*If you are trying to figure out which case you need for your Matrice 600 Pro (NOT Matrice 600) that will best fit your needs, there is a clear decision factor: This original case is your best solution if working locally or using frequently to reduce the wear and tear that can occur from repeated setting up and breaking it down, as you can leave the landing gear in the ready-to fly mode. And if you travel by air more often for your business, then the Matrice 600 Pro case is the best fit because of airline cargo size regulations and its smaller size due to having to take the landing gear off to fit in the case.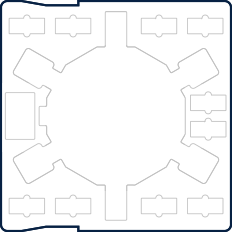 DJI Matrice 600 Case
Accessory Cavity
M600 Battery
Matrive 600 or 600 Pro
Features
Water-jet precision cut with closed cell foam to resist water and dust infiltration.
Our custom foam is housed in a durable SKB military spec case used by military and industrial leaders.
Made in the USA, Shipped Worldwide
Industrial strength injection molded pull handle
In-line skate style wheels for easy transport
Padlock holes include stainless steel padlock protector clips
Waterproof and dust tight design (MIL-C-4150J)
Molded-in hinge for added protection
Trigger release latch system
Snap-down rubber over-molded cushion grip handle
Ambient pressure equalization valve (MIL-STD-648C)
Resistant to UV, solvents, corrosion, fungus (MIL-STD-810F)
Resistant to impact damage (MIL-STD-810F)
Lifetime replacement guarantee
Remember! - If it doesn't say GPC in the foam, it isn't guaranteed!
Specifications
Exterior Length
31 in
Exterior Width
30.75 in
Exterior Depth
29.53 in

Interior Length
27 in
Interior Width
27 in
Interior Depth
27 in

Weight
67 lb
0.00 oz
Shipping Weight
229 lb
0 oz
Shipping
policy

Read our shipping policy
for more details.

Return
policy

Read our 30 day return
policy for more details.

Customer
support