DJI Mavic 2 Pro/Zoom w/Smart Controller Case
GPC-DJI-MAV2-SC
$189.00
The Mavic 2 Pro/Zoom is a powerful and portable cinematic tool, and the Smart Controller provides a large screen to view your dolly zooms live in stunning HD and removes the battery burden from your smart phone. Our carefully crafted design provides maximum protection for that precious screen without compromising storage or protection for other components. Our case provides the best protection and use of space in the most compact case solution on the market, so your Mavic and smart controller w/ *GPC RC Pro/ Smart Controller Lanyard Bracket attached can travel easily.
*Accessories Sold Separately*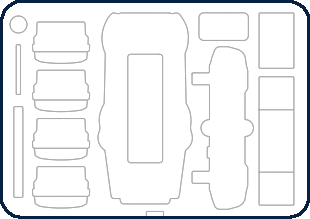 DJI Mavic 2 Pro/Zoom w/Smart Controller Case
DJI Mavic 2 Pro/Mavic 2 Zoom
Smart Controller w/ *GPC RC Pro/ Smart Controller Lanyard Bracket (sold separately)
5 Mavic 2 Batteries (Including One Attached to Drone)
Mavic 2 Charger
Mavic 2 Charging Hub
USB Smart Controller Charger
Accessories
Spare Props/Accessories
Cables
GPC Micro SD Card Holder (Sold Separately)
GPC LensPen MicroPro (Sold Separately)
Features
Water-jet precision cut with closed cell foam to resist water and dust infiltration.
Our custom foam is housed in a durable SKB military spec case used by military and industrial leaders.
Made in the USA, Shipped Worldwide
Padlock holes include stainless steel padlock protector clips
Waterproof and dust tight design (MIL-C-4150J)
Molded-in hinge for added protection
Trigger release latch system
Snap-down rubber over-molded cushion grip handle
Ambient pressure equalization valve (MIL-STD-648C)
Resistant to UV, solvents, corrosion, fungus (MIL-STD-810F)
Resistant to impact damage (MIL-STD-810F)
*GPC Micro SD Card Holder, *GPC LensPen MicroPro and *GPC RC Pro/ Smart Controller Lanyard Bracket Sold Separately
Lifetime replacement guarantee
Remember! - If it doesn't say GPC in the foam, it isn't guaranteed!
Specifications
Exterior Length
14.73 in
Exterior Width
11.94 in
Exterior Depth
7.31 in

Interior Length
13.50 in
Interior Width
9.50 in
Interior Depth
6.50 in

Weight
6 lb
0.00 oz
Shipping Weight
7 lb
0 oz
Shipping
policy

Read our shipping policy
for more details.

Return
policy

Read our 30 day return
policy for more details.

Customer
support