DJI Ronin-S Stored Balanced Case
GPC-DJI-Ronin-S
$289.00
GPC's long-awaited DJI Ronin-S case is finally here! We understand that when it's time to get the shot, assembling and balancing your Ronin is a major pain point. Our unique design allows you to store your Ronin-S in it's balanced configuration, so the only set up required is to attach the quick release plate to the camera and snap it onto the gimbal. The Ronin-S supports a variety of cameras, so we made the camera cavity large enough store the most common models, ranging from the Sony A7Rii or smaller, up to larger bodies like the Canon 80D. This compact case holds the Ronin-S, battery grip, tripod, quick release plate, chargers for the Ronin-S and camera, DJI tool case, 2 lenses and 2 camera batteries.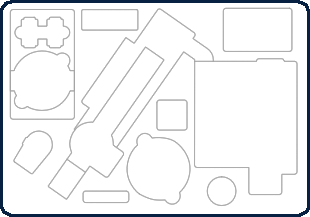 DJI Ronin-S Stored Balanced Case
Ronin S
Ronin S Battery
Camera
2 Camera Batteries
Camera Battery Charger or Accessories
Ronin S Folding TriPod Attachment
USB Adapter
Accessory Box
Mounting Bracket
Lenses
Features
Water-jet precision cut with closed cell foam to resist water and dust infiltration.
Our custom foam is housed in a durable SKB military spec case used by military and industrial leaders.
Includes compact tripod
Made in the USA, Shipped Worldwide
Padlock holes include stainless steel padlock protector clips
Waterproof and dust tight design (MIL-C-4150J)
Molded-in hinge for added protection
Trigger release latch system
Snap-down rubber over-molded cushion grip handle
Ambient pressure equalization valve (MIL-STD-648C)
Resistant to UV, solvents, corrosion, fungus (MIL-STD-810F)
Resistant to impact damage (MIL-STD-810F)
Lifetime replacement guarantee
Remember! - If it doesn't say GPC in the foam, it isn't guaranteed!
Specifications
Exterior Length
16.24 in
Exterior Width
13 in
Exterior Depth
9.80 in

Interior Length
15 in
Interior Width
10.50 in
Interior Depth
9 in

Weight
9 lb
0.00 oz
Shipping Weight
11 lb
0 oz
Shipping
policy

Read our shipping policy
for more details.

Return
policy

Read our 30 day return
policy for more details.

Customer
support