DJI Spark Compact Case
GPC-DJI-SPARK-C1
$69.00
The GPC Compact case will protect your DJI Spark's original kit items PLUS the DJI controller and has accessory space for either the charging hub or a cell phone (without additional cover) for those using it as a monitor. The closed cell foam cavities not only keep your Spark accessories organized, but the rugged mil-spec case provides overall great protection for wet or sandy conditions. This watertight case floats and is dust resistant so it is perfect for all terrains and the adventures of desert rats to water enthusiasts. "Why buy a case when it comes with a foam container?", we've been asked. The answer: While the Spark comes with a sweet little foam container it is not going to meet the needs of the life of your Spark because the stock case will have a short life span and has minimal storage space. We have created great protection against the conditions your Spark will encounter in your adventures and it gives you the room for the stock accessories and plus the controller that you will undoubtedly want as you spend more time with your Spark.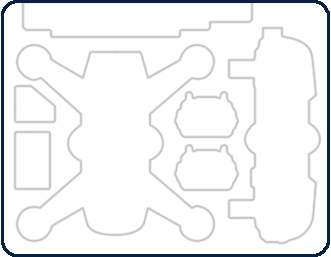 DJI Spark Compact Case
DJI Spark Props Attached
3 Batteries (1 in drone)
Controller
Charger
Spare Props
Accessory (will fit charging hub and most cell phones)
Features
Water-jet precision cut with closed cell foam to resist water and dust infiltration.
Our custom foam is housed in a durable SKB military spec case used by military and industrial leaders.
Made in the USA, Shipped Worldwide
Waterproof and dust tight design (MIL-C-4150J)
Molded-in hinge for added protection
Trigger release latch system
Snap-down rubber over-molded cushion grip handle
Ambient pressure equalization valve (MIL-STD-648C)
Resistant to UV, solvents, corrosion, fungus (MIL-STD-810F)
Resistant to impact damage (MIL-STD-810F)
Lifetime replacement guarantee
Remember! - If it doesn't say GPC in the foam, it isn't guaranteed!
Specifications
Exterior Length
10.73 in
Exterior Width
9.69 in
Exterior Depth
4.80 in

Interior Length
9.50 in
Interior Width
7.38 in
Interior Depth
4.13 in

Weight
2 lb
6.00 oz
Shipping Weight
3 lb
0.00 oz
Shipping
policy

Read our shipping policy
for more details.

Return
policy

Read our 30 day return
policy for more details.

Customer
support