DJI Cendence Case
GPC-DJI-CEN-BTRY-1
$286.00
DJI just keeps adding great accessories to their lineup and we keep designing drone cases with more accessory space to accommodate them, but we know that many of you don't want to replace those cases. We have developed this case for those of you need to protect your Cendence and a Crystalsky. We are also aware of the fact that the Crystalsky burns up the batteries quickly, therefore we designed this case with 4 batteries to keep you going while you are charging the others. Much less it never hurts to have more TB50's or TB55's.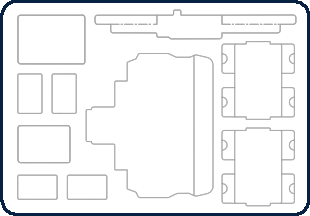 DJI Cendence Case
Cendence Remote (Fits Patch Antenna By Perforated Removable Block)
Tablet (7.85" CrystalSky, 5.5" CrystalSky, or iPad)
2 TB55 Batteries (4 TB 50 Batteries By Perforated Removable Blocks)
4 CrystalSky Batteries
Charger
Accessories
Features
Water-jet precision cut with closed cell foam to resist water and dust infiltration.
Our custom foam is housed in a durable SKB military spec case used by military and industrial leaders.
Includes compact tripod
Made in the USA, Shipped Worldwide
Padlock holes include stainless steel padlock protector clips
Waterproof and dust tight design (MIL-C-4150J)
Molded-in hinge for added protection
Trigger release latch system
Snap-down rubber over-molded cushion grip handle
Ambient pressure equalization valve (MIL-STD-648C)
Resistant to UV, solvents, corrosion, fungus (MIL-STD-810F)
Resistant to impact damage (MIL-STD-810F)
Lifetime replacement guarantee
Remember! - If it doesn't say GPC in the foam, it isn't guaranteed!
Specifications
Exterior Length
16.25 in
Exterior Width
13 in
Exterior Depth
9.80 in

Interior Length
15 in
Interior Width
10.50 in
Interior Depth
9 in

Weight
7 lb
0.00 oz
Shipping Weight
9 lb
0 oz
Shipping
policy

Read our shipping policy
for more details.

Return
policy

Read our 30 day return
policy for more details.

Customer
support