DJI Mavic 2 Pro/Zoom w/Smart Controller Foam Replacement
GPC-DJI-MAV2-SC-F
$69.00
The Mavic 2 Pro/Zoom is a powerful and portable cinematic tool, and the Smart Controller provides a large screen to view your dolly zooms live in stunning HD and removes the battery burden from your smart phone. Upgrading to DJI's Smart Controller is a smart move, streamlining the setup process so you can easily get up in the air when inspiration strikes. We've made it easy to upgrade your GPC case with our foam replacement that keeps everything great you already love and creatively makes room for the smart controller w/ *GPC RC Pro/ Smart Controller Lanyard Bracket attached.
*Accessories Sold Separately*
If you already have the original GPC-DJI-MAVIC-1, GPC-DJI-MAV-2 or GPC-DJI-MAV-2-CS you can just purchase this foam set.
**Foam will not fit other manufacturer's cases.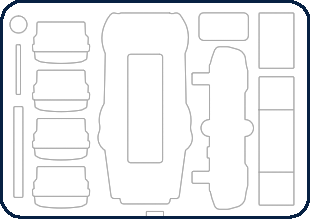 DJI Mavic 2 Pro/Zoom w/Smart Controller Foam Replacement
DJI Mavic 2 Pro or Mavic 2 Zoom
Smart Controller w/ *GPC RC Pro/ Smart Controller Lanyard Bracket (sold separately)
5 Mavic 2 Batteries (Including One Attached to Drone)
Mavic 2 Charger
Mavic 2 Charging Hub
USB Smart Controller Charger
Accessories
Spare Props/Accessories
Cables
GPC Micro SD Card Holder (Sold Separately)
GPC LensPen MicroPro (Sold Separately)
Specifications
Exterior Length
13 in
Exterior Width
9 in
Exterior Depth
5 in

Weight
1 lb
0.00 oz
Shipping Weight
2 lb
0 oz
Shipping
policy

Read our shipping policy
for more details.

Return
policy

Read our 30 day return
policy for more details.

Customer
support