DJI Phantom 4 RTK w/Ground Station Case
GPC-DJI-P4-RTK-SUR
$629.00
This work horse of a Phantom P4 travels a lot of valuable accessories. We have been waiting to get a good understanding for what the users are going need in the field and this case packs it. This case packs a punch with the Phantom, RTK Ground station, plenty of batteries for both, chargers and much more. This case keeps all the items secure and well organized. We also know that quick deploy is important, therefore we have designed the P4 cavity to keep the props on. We also designed knowing that the tripod and pole are not always required, and they are very robust to travel on their own or with little protection.
*Accessories Not Included*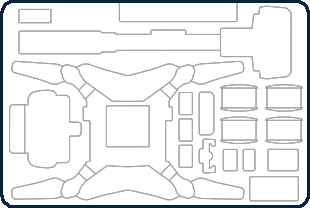 DJI Phantom 4 RTK w/Ground Station Case
Phantom 4 RTK
Controller
5 Phantom 4 Batteries (1 attached to drone)
Phantom 4 Charger
Phantom 4 Charging Hub
3 CrystalSky Batteries
CrystalSky Charger
D-RTK 2 Ground Station
Bracket
RTK Charger
Accessories
Spare Props
Cables
Features
Water-jet precision cut with closed cell foam to resist water and dust infiltration.
Our custom foam is housed in a durable SKB military spec case used by military and industrial leaders.
Made in the USA, Shipped Worldwide
Industrial strength injection molded pull handle
In-line skate style wheels for easy transport
Padlock holes include stainless steel padlock protector clips
Waterproof and dust tight design (MIL-C-4150J)
Molded-in hinge for added protection
Trigger release latch system
Snap-down rubber over-molded cushion grip handle
Ambient pressure equalization valve (MIL-STD-648C)
Resistant to UV, solvents, corrosion, fungus (MIL-STD-810F)
Resistant to impact damage (MIL-STD-810F)
Lifetime replacement guarantee
Remember! - If it doesn't say GPC in the foam, it isn't guaranteed!
Specifications
Exterior Length
28.60 in
Exterior Width
20 in
Exterior Depth
13.65 in

Interior Length
26 in
Interior Width
17 in
Interior Depth

12

in

Weight
25 lb
0.00 oz
Shipping Weight
28 lb
0.00 oz
Shipping
policy

Read our shipping policy
for more details.

Return
policy

Read our 30 day return
policy for more details.

Customer
support