DJI Matrice 210 XTS Case
GPC-DJI-M210-XTS
$899.00
We worked with DJI and a team of experienced enterprise users to ensure our new DJI Matrice M210 XTS case (accommodates DJI Matrice 200, 210 (V1 and V2) or 210 RTK (V1 and V2)) meets the most rigorous requirements in the field. Our new configuration holds more accessories and sensors than any of our previous designs to support the full spectrum of mission types. The big upgrade with this new design is added cavities for Flir XT2, SlantRange 3PX, Sentera AGX710, and Cendence with Patch Antenna. The DJI-M210-XTS is the most compact configuration possible, accommodating 6 camera/sensor options, up to 14 TB50s or 8 TB55s and 3 options for monitor storage. As always, GPC uses the best quality cases by SKB and our signature water jet low abrasive soft cell polyethylene foam with the blue MDL cap for added durability.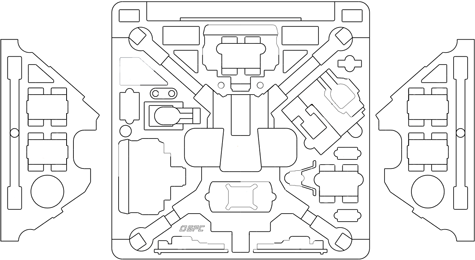 DJI Matrice 210 XTS Case
DJI Matrice 200, 210 (V1 and V2) or 210 RTK
Landing Gear
Cendence Controller
Cendence Antenna
14 TB50s (Including 2 on UAV) / 8 TB55s (Including 2 on UAV)
Remove tabs to fit TB50 batteries
2 Tablets ( DJI 5.5" CrystalSky, 7.875" CrystalSky or iPad up to 10.5" )
Battery Chargers
Charger Cable
Charging Hub
Charging Cable Storage
CrystalSky Batteries
X4s or X5s
X5 Lense case
Cendence Controller (Bottom Tray)
CrystalSky Battery Charger (Bottom Tray)
CrystalSky Batteries
Slantrange 3PX Sensor
1 Z30 and 1 XT/XT2 or 1 X7 Camera or 1 Camera Box
Slantrange GPS with Mounting Bracket
Cendence Antenna (Bottom Tray)
Accessory Cavity
Features
Water-jet precision cut with closed cell foam to resist water and dust infiltration.
Our custom foam is housed in a durable SKB military spec case used by military and industrial leaders.
Made in the USA, Shipped Worldwide
Industrial strength injection molded pull handle
In-line skate style wheels for easy transport
Padlock holes include stainless steel padlock protector clips
Waterproof and dust tight design (MIL-C-4150J)
Molded-in hinge for added protection
Trigger release latch system
Snap-down rubber over-molded cushion grip handle
Ambient pressure equalization valve (MIL-STD-648C)
Resistant to UV, solvents, corrosion, fungus (MIL-STD-810F)
Resistant to impact damage (MIL-STD-810F)
Lifetime replacement guarantee
Remember! - If it doesn't say GPC in the foam, it isn't guaranteed!
Specifications
Exterior Length
26.50 in
Exterior Width
26.54 in
Exterior Depth
15.65 in

Interior Length
24 in
Interior Width
24 in
Interior Depth
14 in

Weight
28 lb
0.00 oz
Shipping Weight
35 lb
0 oz
Shipping
policy

Read our shipping policy
for more details.

Return
policy

Read our 30 day return
policy for more details.

Customer
support